Problem-solving relies on working memory. Working memory is very limited except when it comes to information that's also in long-term memory. Long-term memory is thus central to expertise. Committing things to long-term memory (i.e. learning) is best accomplished by the careful management of cognitive load.
Preface
The following post is basically a straightforward regurgitation of (part of) (Sweller 2008). That paper is very readable so there's really no reason to read the rest of this post. With that out of the way, I liked this paper for two main reasons:
It fairly radically changed my opinion on the value of long-term memory in ways that are practically important
It provides a coherent theory which unifies many phenomena. A coherent theory is easier to remember and easier to apply in novel situations than a disparate collection of facts.
Working memory
Essentially all human problem-solving is about the manipulation of items in working memory. Alas, our working memory is tragically limited—traditionally, research suggests the upper limit on the number of 'chunks' in working memory is the "magical number seven". (Interestingly, there's some evidence that chimpanzees have superior working memory to humans. Video and paper). Despite this grievous limitation, experience suggests that humans do actually carry out impressive feats of problem-solving. How?
Long-term memory
The key is exploiting a 'loophole'—"huge amounts of organized information can be transferred from long-term memory to working memory without overloading working memory" (Sweller 2008). Thus, we arrive at the central importance of long-term memory to human cognition. Contra the denigration of rote memorization, "[task-relevant long-term memory] is the only reliable difference that has been obtained differentiating novices and experts in problem-solving skill and is the only difference required to fully explain why an individual is an expert in solving particular classes of problems" (Sweller 2008). In other words, long-term memory is necessary and sufficient to explain expertise.
Chess board recall
We can make illustrate these claims with the results of a classic study (De Groot 2014). Look at the next image for a few seconds, close your eyes, and try to recall the positions of pieces.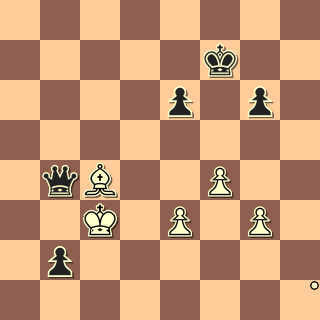 If you're a chess amateur, this should have been quite hard (i.e. you probably misremembered the pieces). On the other hand, if you're a chess expert, this was probably fairly straightforward.